Morgan Horses at the Vermont State Fair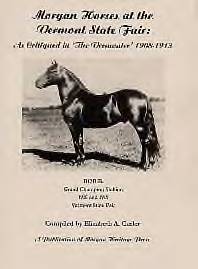 This book features the articles published in The Vermonter magazine  on Morgan horses shown at the Vermont State Fair 1908-1913. In   addition, the 1913 fair featured the forerunner of 300-mile endurance rides, from which evolved the Vermont 100-Mile and Tevis Cup Rides.
Photographs of horses include: Bob Morgan, Bob B., Borden's Ethan Allen 3rd, Knox Morgan, Donald, Prince Charlie, Young General Gifford, Welcome, Pete Morgan, Senata, My Lady Knox, Bell Marea, Croydon Prince, Sir Ethan Allen, and Donbelle.  In addition, related material has been included on the 1907 fair and those following 1913; from the New England Farmer an article featuring the opinions of Morgan breeders of the 1909 fair; the results of class placings from 1908 to 1922, and an old print of an 1853 Vermont State Fair held at Montpelier, Vermont.
Fast Back bound soft cover, 8½ x 13 inches, 131 pp., over 100 photographs.
$ 25.00 with postage calculated at checkout